hannsjana "Foyer" (Long Night of Pictures)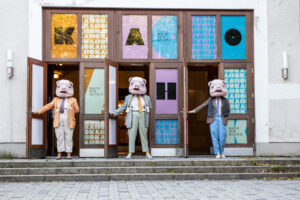 Since 2008 the heart of the Theater Karlshorst has been empty. Members of the Berlin-based performance collective hannsjana have taken this as an opportunity to search for traces. They ask the audience of the time about past experiences in the theatre that have stuck to their mind: the most exciting performances, the most lavish stage sets or the most famous actresses and actors. What is at least as thrilling is the choice of one's attire for the theatre evening, the champagne bar during the break, or rushing through the lobby when arriving late again.
During the audio walk, today's audience encounters the acoustic memories of the Theater Karlshorst and listens to anecdotes of moving experiences in other theatres, with a gang of limelight hogs repeatedly pushing themselves to the fore. This playful species of pigs with a propensity for theatre has found a perfect habitat in the empty theatre building. Undisturbed, the limelight hogs stage their own memories of the theatre and those of others on a daily basis: state ballet meets youth ceremony, musical meets avant-garde performance art.
In the frame of the Long Night of Pictures of the District Administration of Lichtenberg.
Production in the frame of KAHO Interim 2021 funded by the Senate Administration for Culture and Europe and DRAUSSENSTADT
sold out
2. September 2022
at 20:00 hrs
Zurück zum Programm