czerny&kiderlen: "GET LOCAL! or EIN HORST FÜR DEN KARL!"
Play performance by Meret Kiderlen and Manuel Czerny on the changes of a district in (East) Berlin raising the question of how we want to live together.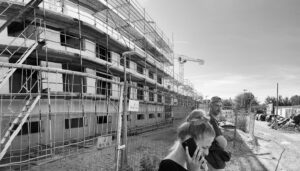 The district of Karlshorst in Lichtenberg is a striking example of Berlin's urban development. In the "Dahlem of the East" around the Trabrennbahn (Trotting Course), the population has doubled and become newly composed in the past decades. On the grounds of former auto repair shops, on fields or in abandoned barracks, new and often high-priced residential buildings are being constructed to house thousands of newcomers to the area. Most of them have children, because people have always moved here, to what feels like the outskirts of the city, for the sake of their families! But what kind of district is this, in which the kids are to be raised? What historical heritage is at work here and how will history continue?
In GET LOCAL!, the transformation of the urban community is put to the test – including conflicts, resentments and new partnerships. Residents of the district appear as actresses and actors and play the part of their own and other population groups: historically interested villa owners, long-time residents who experienced German unification, new homeowners and involuntary caravan renters, Russian-speaking parents and their primary schoolchildren, as well as Carless Horst activists or politicians engaged with urban planning.
As an exemplary urban community, the audience is called upon to answer the question: Where and how do we want to live?
GET LOCAL! is the first part of a series of community projects along the S-Bahn line S3.
Team GET LOCAL!
Concept & text: Meret Kiderlen
Directed by: Manuel Czerny
Scenography & costumes: Robert Sievert
Light design & technical direction: Arno Truschinski
Dramaturgy: Maren Witte
Production management: Franziska Janetzky
Research, translation & soufflage: Nicole Kaminer
Assistant to the director: Linn Günther
Sound design: Frieder Naumann
Light design: Max Wegner
Stage design: Jan Hoffmann
Composition & live music: Max van Dusen & Lena Radivoj
Performers: Manfred Gertz, Linn Günther, Sankar Krishnan, Helga Linke, Alina Mauch, Juna Savchuk, Marta Maria Teterina, Anne Wittkuhn
Production supported by the Fonds Darstellende Künste from funds of the Federal Government Commissioner for Culture and the Media  in the frame of NEUSTART KULTUR.

sold out
9. October 2022
at 16:00 hrs
Zurück zum Programm